Hey buddy, I've written Korn shell scripts, so don't tell me about computers ...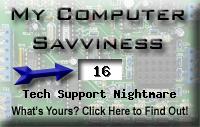 Didn't do so well, or did fine, depending on your perspective.
For the record, at one time or another, I have programmed in BASIC, Pascal, COBOL, Unix shell scripts, C and C effing plus plus. I have partitioned a hard drive into Linux/Windows. I set up a Unix network. I have written a bit of HTML (just a bit). And I wrote a business newsletter that a thousand or so high-level IT execs and sysadmins PAID $200 a year for! I have forced bits and bytes to serve my whim and command, and I have ruled them with an iron fist! So don't tell me that I don't have technical chops, you stupid quiz!
Nonetheless, for reasons that are not entirely clear to me, I possess absolutely no ability to retain technical information. I can't do any of that stuff again. It's like I learn it, figure it out, and forget it just as fast. Sigh. Just as well. /end rant.